---
---
| | |
| --- | --- |
| | Plateforme libre de discussion |
---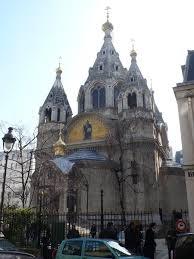 Le père Andrew Phillips (recteur de l'église de Saint Jean de Shanghai Colchester Royaume-Uni)dont de
nombreux textes
ont été lis en ligne par P.O. vient de nous faire parvenir son analyse de la situation actuelle au sein de l'Archevêché à la veille des élections d'un nouvel évêque. Le père André exhorte le clergé et les fidèles de l'Archevêché à revenir sur leur attitude d'hostilité et de rejet à l'égard de l'Eglise orthodoxe russe.
L'équipe de rédaction PO ne fait pas siennes toutes les idées de l'auteur.
Local and Faithful, or Westernised and Hellenised
Since the Russian Revolution the Patriarchate of Constantinople has taken into its jurisdiction a variety of Russophobic dissidents. Their schisms have come about because the dissidents have been too spiritually weak to remain faithful to the Russian Tradition and so have been dragged down into party politics or personality cults. Thus, they have either been virulent nationalists or else anti-Tradition liberals and freemasons, cultivating political and theological schisms caused by that Revolution. Having lost sight of the big picture of Orthodox civilisational values, the Orthodox world-view, they have been brought down into petty, provincial concerns.
Some of the dissidents have been Slavs - Russians, Ukrainians or ex-Catholic Carpatho-Russians - others have been Western converts - Finnish, American, French, Estonian or ex-Anglican. Here we look at the dissidents, originally Russophobic, pro-Kerensky aristocrats from Saint Petersburg, who, leaving Russia, then the Church outside Russia and then the Church inside Russia for Constantinople, over 80 years ago formed the Rue Daru jurisdiction in Paris. After nearly a year without a leader, they are now hoping to elect a new archbishop in November 2013.

Although issued from the Russian Tradition and even claiming to belong to it, since they left the Mother-Church these dissidents have gradually become more and more Westernised and absorbed into the US and Turkish-controlled Greek Patriarchate in Istanbul. This can clearly be seen in their forsaking of the Orthodox liturgical calendar and Orthodox liturgical, dogmatic and pastoral practices for modernist, Western, secular practices. This simultaneous Westernisation and Hellenisation is inevitable and can only be avoided by their leaving schism and taking the path back to the Mother-Church.

If, after the election of a new archbishop, they cannot return to the Mother-Church, they will consign themselves to remaining a small archdiocese of the Patriarchate of Constantinople, perhaps 5,000 in number in all, most of their parishes set up in temporary or rented premises and less than 25 strong. Their ethos will continue to be intellectual, not spiritual, philosophical, not theological, disincarnate, not incarnate, with mainly untrained clergy, without a living Tradition and without a Mother-Church, yet dependent on the Russian Church for vestments, literature, musical culture and people to fill its small parishes. Clearly, eventually, they will disappear, absorbed into Greek Church structures and practices.

However, if, after the election of a new archbishop, they can return to the Mother-Church, they will be able to rejoin the multinational and multilingual free Russian Orthodox Church, fifty times bigger than the tiny and captive Patriarchate of Constantinople. They will be able to take part in the construction of the Metropolia of Western Europe, with its hundreds and hundreds of real parishes and historic churches all over Western Europe, the stepping-stone to a future new Local Church and yet at the same time authentically faithful to the Russian Orthodox Tradition and Church in all ways. Local and Faithful, or Westernised and Hellenised: this is the choice that they face.

---
---
Plateforme libre de discussion "Parlons d'orthodoxie"